Stapleton's injury is to his right hand. His right index finger, to be specific. Stapleton, who hasn't revealed how the injury occurred, has a broken bone and a detached tendon. He's currently sporting a brace that covers his finger and part of his palm. "After seeing a specialist, I have some information to share. I'm on the road to recovery from a broken bone & a detached tendon in my right index finger," he wrote in an online post. "The doctor is hopeful that with some physical therapy I will be playing guitar again soon."
While Stapleton technically could stand onstage and just sing, his guitar playing is a vital element of his live sound.After James Hetfield's near incineration on Metallica's 1992 tour, he limited himself to singing, while an added player handled his guitar parts. But Stapleton is his lean band's only guitarist, and his idiosyncratic style, which relies heavily on choppy, rhythmic chords, would be hard to duplicate. His solos, meanwhile – like the one-note display he tears up in "Second One to Know" – are simple and spontaneous in their feel. To Stapleton, improvisation is key.
The All-American Road Show is set to resume June 22nd.As of right now, Stapleton returns to the road with a concert at the BOK Center in Tulsa, Oklahoma. Anderson East and Brent Cobb are set to open.
Stapleton has announced the rescheduled dates for the postponed shows:
August 31 – Fresno, California @ Save Mart Center
September 1 – Mt. View, California @ Shoreline Amphitheatre
September 2 – Wheatland, California @ Toyota Amphitheatre
September 8 – Cincinnati, Ohio @ Riverbend Music Center
September 9 – Noblesville, Indiana @ Klipsch Music Center
September 15 – Southaven, Mississippi @ Bankplus Amphitheater at Snowden Grove
September 16 – Birmingham, Alabama @ Oak Mountain Amphitheatre
November 2 – Charleston, West Virginia @ Charleston Civic Center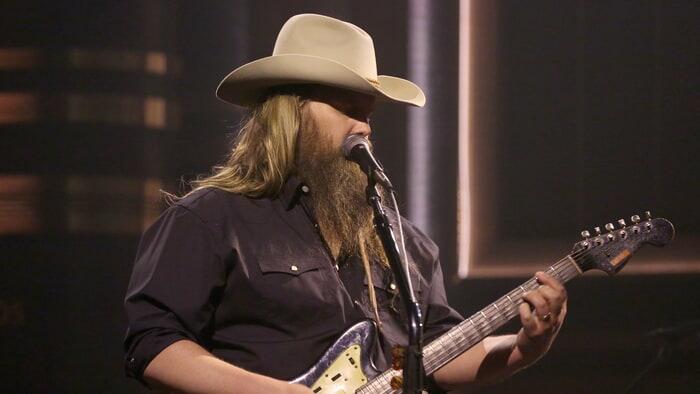 Photo Courtesy of RollingStone.com